I was going to email this to Carrie and then I thought if I was going to go to all that trouble of like, typing, I might as well post it here instead.
Evie and I were in the kitchen today and she asked me, out of the blue, when we were going to get a magic carpet that we could really use. I guess she's seen one on TV recently? I don't know. It was cute, and I had to explain to her that sadly, magic carpets aren't real and we could not actually get one for our own usage, even though that would be fun. That reminded me of

carrieb
's Nanowrimo book, and I mentioned to her that I had a friend who wrote a story about a magic flying bed.
It made more of an impression than I had planned. She immediately started asking me questions.
E: Who rides on the magic bed?
K: A little girl named Sarah!
E: Does the bed have wheels?
K: No, it flies!
E: But does it have wheels on the
inside
, so that it can land in a place she's never been before?
K: Nope, I don't think so! (She's thinking of the airplane wheels. :) )
E: Does the bed have covers on it and blankies to snuggle with while you're flying?
K:...um, I'm not sure but I think so. Would you like me to ask Carrie?
E: YES!
We also had a discussion about who Carrie is, who Erik is, where they live and when they came to visit and how old she was and how old Erik was, etc etc etc. It was, you know, a sort of unexpected but not not terribly unusual conversation. I will say that while I enjoyed Carrie's story as she was writing it and still think she should finish it, I really only remembered the key elements so I had a hard time answering some of her questions. ;)
Anyway. A couple of hours later, she comes into the computer room and steals two pieces of paper and lays down on the floor with some crayons and starts chattering to herself while very purposefully drawing this--Sarah and a flying bed.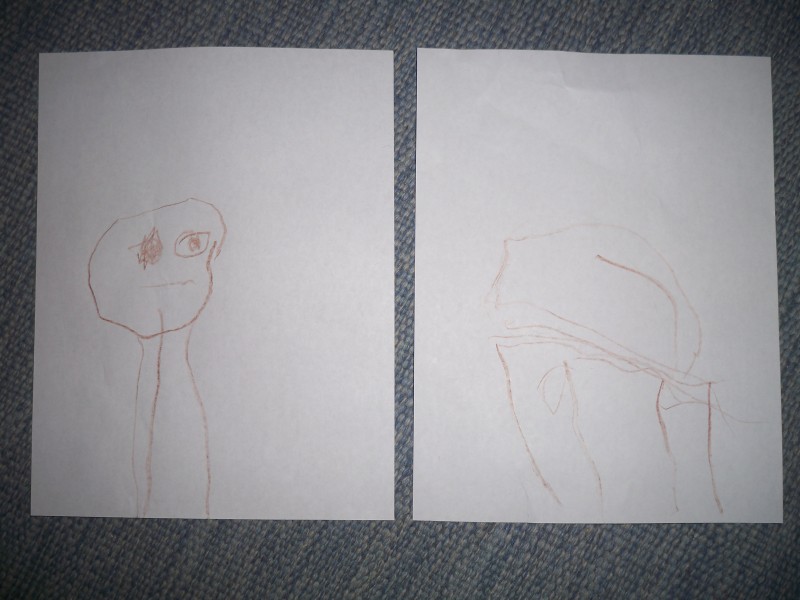 That's Sarah on the left. Drawing people (and stuff, in general, other than just scribbling) is very, very new for her so legs and arms are directly attached to heads. That could be a body and arms, or a body with legs. I think she does spectacular eyes for her drawing skill level, though. And really, matching is so outdated. The bed is on the right and it is a little harder to understand because she embellished it a little too much. The four sticks on the bottom are legs, with the mattress laying right on top. The horizontal lines are the covers and blankets. The arch on top is a canopy so that she won't get wet.
When she was done drawing the pictures, she immediately requested tape so she could turn them into puppets on sticks. (We made a couple earlier in the day... she's really into them right now.) So, she had Sarah hanging out with her magic bed, flapping them around like they were flying. I'm thinking surely you can consider this an action figure for your first book, Carrie. ;)