Dear Internets,
It has been a long time since I posted in Mama's journal but that is because I am very busy and do not have time for such silly things as computers. Also, I do not think Mommy and Daddy have time for them, either. They have far too much to do. For example, they need to carry me around a lot and show me things, preferably outside. My favorite thing recently was going to the game farm to look at all the animals.
I used my big blue eyes to great advantage last week and I conned my daddy into taking me for a ride on the lawn mower. He wouldn't go very fast, and we stayed on the driveway (I didn't know driveways needed mowed?) but it was fun! I want to go again soon!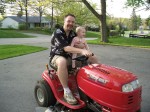 Granny came to visit last week and that was lots of fun too. I don't particularly like Mommy or Daddy when Granny is around because she is much cooler than they are. Look at what she let me do! Mommy shrieked when Granny sat me down in the grass, and then she ran for the camera. She is dumb sometimes. Grass is fun! I like grass a lot. Also, dead leaves, dandelions and dirt. And we went to the store and Granny wore me in the carrier Mama made! That was fun! Granny couldn't believe how light I felt in it.. relatively speaking. How come everyone talks about how big I am? Are they calling me fat?
Mommy made me a pair of pants. Please tell her not to do that again.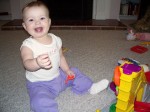 I do lots of fun stuff now. I am not keen on walking yet, but I will stand unassisted for a couple of seconds at a time. I imitate sounds--I can go "ssssssssshhhh" like a bee! I put things in the bucket and take them out again, and I am beginning to see the point of stacking things. I like stuff unstacked a lot better, though. I like to hand toys to people but I would prefer not to actually
give
it to them, so the polite thing to do is to touch the item I am handing you and then let me have it back. Don't be stingy. I really am not that interested in eating big people food but I will try anything. I like cheese and bananas and cheese and dry cereal and cheese and cheese and potatoes and cheese and french fries and cheese, and did I mention cheese? Please can I have some cheese? I can say some words--mama, daddy, (nanny) granny and hi are my favorites, but I can say ti-ti for tiger, and have repeated a few different words now and then. I know a little sign language, too. I can do "milk" and "more", and I've done "daddy" and "cheese" before, too.
I also
love
to drink water. Mommy got this bright idea to try letting me have it straight from the cup. That was fun! I was still thirsty when we got done though. Drinking is complicated.
Love,
Evelyn