For Valentine's Day, my parents gave me a pair of jeans that fit, five bucks and a few hours of babysitting so that I could go on a date with my husband. (The five bucks was not to finance the date, but to even out the money on what they gave M. They are sticklers on evening out the money, and I scored a 30% off card at the register at Kohl's when the jeans were being bought, and so they cost less than they were "supposed" to. Not that you care.) Oh, also, a whisk. Anyway, that is not the point at all. The point is... M and I got to go on a date! Without the baby! It was fun!
This weekend was crazy busy, particularly on Saturday. One of my cousins turned eighteen (today) and had a party scheduled for yesterday. Another cousin (his aunt) flew in for the occasion. Her plane arrived in Louisville at nine Saturday morning. Her sister was going to come pick her up, and had asked if she could spend the night with us, because we are two hours closer to the airport than she is (just about an hour for us). I told her that she was welcome, but also told her that if she could get the spare car seat to us, we would go pick her up. We were heading up for the weekend anyway so we might as well go two hours out of our way than one of them go six hours out of their way. So, we did our part for familial duty this weekend. Sidenote: turns out that our car is really not designed for two carseats and a person sitting in the middle. It was more than a tight squeeze but we managed. I'm just glad that I am not the one that had to ride back there for an hour and a half.
So, lunch with a thousand people before we adjourned to my parents house for a while. In addition to our date, there was a college basketball game, and we had all been talking about taking Evelyn to see one. We were planning on going to the game with my parents and aunt and uncle, and then leaving after a few minutes and going on our date. I had maybe had some brief thoughts about how she might not like it, but we were pretty much thinking she'd be excited by all the people and the mascot and the ball and the commotion. HAHA HA HAHAHAHAHA. In retrospect.. duh. Evelyn does NOT like loud or echoey noises. This is the child who was terrified of public bathrooms and will still sometimes come running to us when we yell something to someone in another room. So... she cried, and clung to me or my mom or my aunt while we found a seat. We were hoping she would warm up to the whole thing after a few minutes, but just when we would coax a smile out of her, they would start buzzing about something and people would yell and cheer and she would cry again and bury her head in someone's neck. It was really pitiful. M and I were thinking that there was no way in hell we were going to make her sit there any longer but were trying to figure out exactly how to accomplish this because we were supposed to be leaving for our date without our kid in tow, and yet, we hated to say that they had to leave the game too. My mom and aunt ended up taking her back to the house. We stayed with her for a few minutes before they left, and she was fine, and so all was well, but it was so pitiful. She is not much of a crybaby, my little girl, so it really stings when she's sobbing hysterically because she's so afraid of something, you know?
Anyway, after that sour note in the day, M and I headed off to our date. We were kind of without plans, and also, in a small town with limited options. It was too early for dinner and we had missed the time slot for a matinee, and there were no movies we wanted to see anyway. (We have a raincheck with my parents for a movie in the future... that was supposed to be part of our date.) That pretty much leaves you with Walmart, but my smart, smart husband came up with a really sweet lovely idea, and we drove out to the lake and walked around "our" spot. When he came over to visit the first time, we drove out there on that first day, when it was still really awkward and new, and we walked around one of the picnic areas/trails, and we talked and held hands and all that, and M gave me a brief history of European wars. (Don't ask. I never did. I think maybe we were
both
a little nervous that first day.) It was kind of cold and windy so we were the only ones out there, and it was so quiet and lovely and pretty. Smart boy! And romantic! He even started talking about European wars as we headed down the trail! Awww.. ;) So, we had a little reminiscing time. We followed that up with a quick stop at Kroger and then to dinner, and then we walked over to the bookstore and had coffee. It was so, so fantastic. Really. It was also more Valentiney than I think we have ever been in the past decade. Decade. I sometimes can't believe I can use that term about our relationship.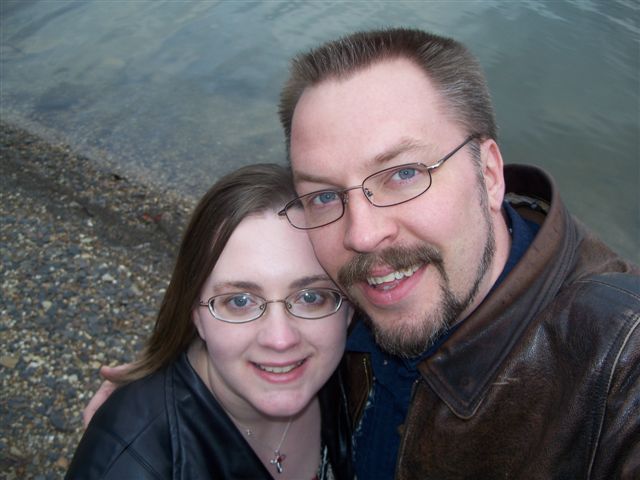 And when we came home, our baby girl was happy to see us (in moderation; Granny was still there, after all) and she went to bed without much fuss. Score!
Yesterday was kind of a mess, what with the birthday party. It was supposed to be at three, but when we arrived at three, turns out that the doors didn't even open until four. (It was at a bowling alley on campus.) None of the party people were there. We went back to my parents and complained about the disorganization of those particular family members, until they called and were all "oh, we're here. Come in the back door. No, come in the front, we'll unlock it for you!" So we went, and of course, they did not come unlock the door but it worked out. It was actually the second failed outing of the day. Some of them also got baptized yesterday morning but failed to invite the family. Long story, not interesting, all's well that ends well, but still incredible that the whole day was so screwed up.
We were pretty apprehensive about the bowling plan, since we had just had a pretty adverse reaction to another loud event with lots of people, but Evie thought it was grand. We let her play a little bit with rolling the balls down the lanes, but she spent most of her time in the room with the pizza and cake. She normally will not eat pizza but she was loving it yesterday. (She wants to like cake, but sadly for her, she does not.) We were afraid that she would get smacked by someone with a ball, or run down the lane to get the pins, or something like that, so she got held or otherwise restrained through most of the event.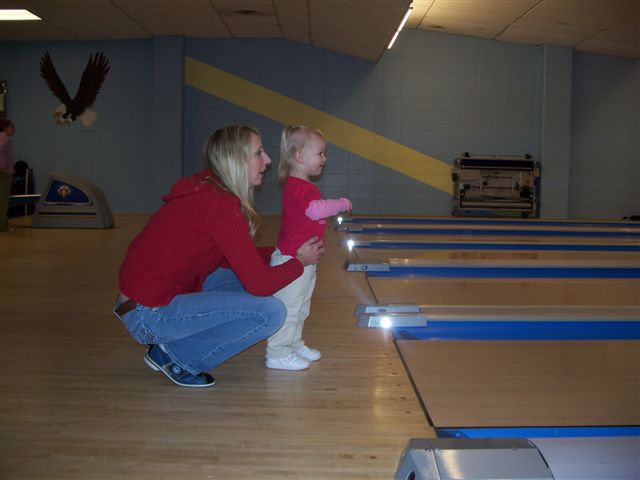 We left well before she was done, and she was devestated to be leaving her Granny, but she had fun while it lasted. We also learned that while yes, we could take her bowling, it would be a giant pain in the tushy and we might as well wait until she's a little bigger. We go bowling once every five years or so anyway, so it's not like she's really crimping our lifestyle much in that regard anyway. By 2014 she'll be plenty old enough to bowl! ;)
And I have officially used all my babynap to write this monster post. I had other ideas in mind on what to do today but I guess they'll have to wait.. it's now past time to go wake up the munchkin.